8 Ways to Make Your Bedroom Look Like a Luxury Hotel on a Small Budget
For a luxury bedroom design you don't need to spend a lot of money. You can create the bedroom of your dreams by focusing on the little things that bring a feeling of luxury. The good news is that even a small bedroom (with a small budget) can have a hotel feel!
This post may contain affiliate links. Read our disclosure…
When staying at a five-star hotel the sense of luxury goes beyond the room look. High-end hotels focus on each detail of the room for a five-star feel.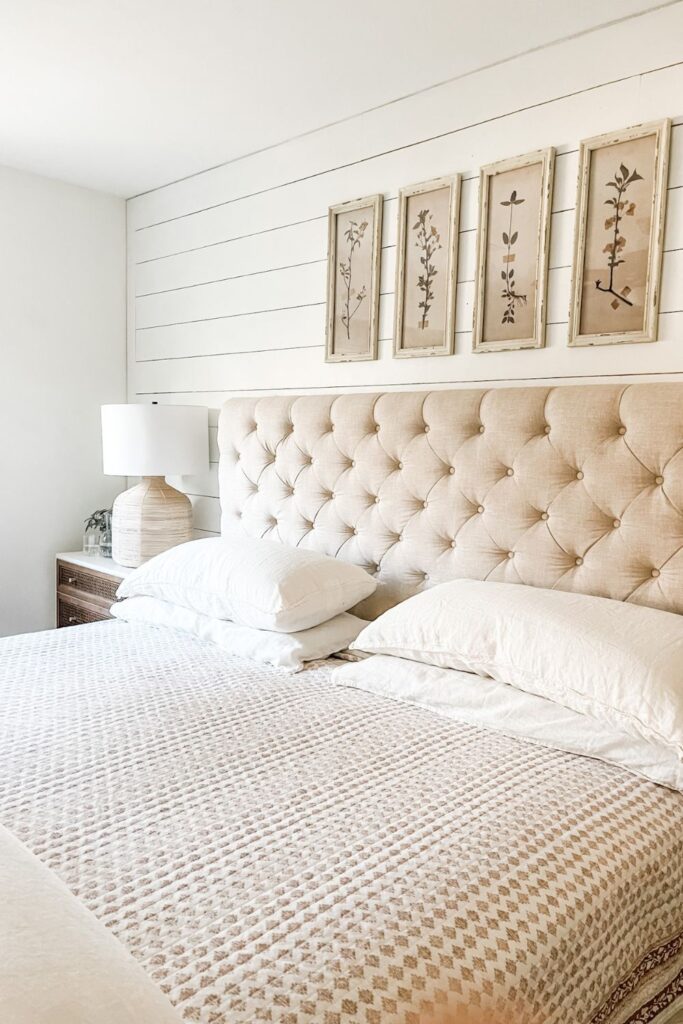 The tips I'm sharing below are what I like to call "easy elegance". The elements in the room feel luxurious, but cozy enough so that you feel like the most important thing in the room and not the decor!
Try some of these tips and take your bedroom to the next level with these luxurious bedroom ideas.
Declutter
I always like to start my room improvements and makeovers with a good declutter. If you haven't done it in awhile, I can guarantee it's time.
The primary bedroom seems to become a dumping ground in a lot of our homes. We all know it should be just the opposite. A place of calm with a luxurious feeling of rest.
If you're feeling stuck, I have a couple of posts for you.
There will be many more to come. I'm pretty passionate about this subject. Nothing can change the way a house looks and feels more than decluttering and organizing. It can really improve your everyday life as well.
After I declutter, I get out my paint and do any touch ups to the walls or trim that are needed.
Just getting those things done will be so satisfying that you might be tempted to stop there. But don't!
Keep adding in the luxury feeling elements that I talk about here. You can do it quickly and all at once, or take your time.
With each improvement I know you'll find yourself loving the time you spend in your bedroom. After all, we spend at least a third of our day, EVERY day in our bedroom!
Feature Wall
A great place to start with your bedroom upgrade can be with an accent wall. Interior designers use this decorating secret in luxury hotel rooms.
Your bed is usually the focal point of the room. You can extend the luxury feel by adding a feature wall of wallpaper, paint, or an architectural detail such as shiplap or molding.
A feature wall is a great way to enhance the overall look of your bedroom.
Bedroom Furniture
If you haven't updated your bedroom furniture since the stone age, it might be time. If your furniture is solid wood and you like the style, you could always paint it or strip the finish.
I've done it with lots of vintage furniture. You can read some of those posts here:
Regardless of the bed frame, a comfortable bed is a number one priority.
We recently updated our mattress in our own home. We found the Saatva mattress after trying out several others.
After all, it doesn't matter if you have a perfectly made bed, if you didn't get a great night's sleep!
There are a lot of affordable options whether you decide to buy new furniture or off of online marketplaces.
We have a mix of new furniture and thrifted.
We also recently purchased a great tufted headboard and bed frame. The Chesterfield style gives our bedroom a classic, luxurious feel.
Bed Linen
Upgrading you bed linen is the best way to make your room look and feel luxurious. Luxurious sheets will make you feel so good at the end of the day!
We added these washed Linen sheets and duvet cover to our bed. We also chose a down comforter (duvet).
I can't describe what a difference great sheets make to your sleeping space. You have to experience it for yourself!
Mix and match pillow covers, sheets, duvet covers, and quilts for a rich layered look.
I chose to keep all of mine in a natural cream color. This way I can add in a seasonal quilt or throw pillow for accent colors in the room.
We're just loving the McGee & Co. quilt that we picked up from Target.
The mauve color is subtle and earthy. It goes well with all of my neutrals yet adds some interest and color.
Lighting
Lighting is another favorite way for me to update or change the style of a room.
Natural light and large windows are of course desirable, especially in a small space. But even if you don't have that, you should definitely add in some table lamps or even floor lamps. Overhead lights should be considered as well.
Having soft lighting options can add to the whole room feeling like a luxurious space.
Being able to have a bedside lamp on while reading, a floor lamp in the sitting area, and an overhead light is the perfect balance.
Consider your light bulbs as well. Many LED bulbs can be on the cool side. They can look blue and glaring when used in your fixtures. Look for full spectrum, warm, or soft white in bulbs.
Switch yours out and see what a difference it makes.
New lighting doesn't have to break the bank either. We added these gorgeous, oversized lamps on either side of the bed. They're statement pieces in the room.
I had originally found them on the Pottery Barn website. However, I shopped around and found them at a fraction of the price!
When you fid a deal like this, don't hesitate too long. Things seem to go out of stock quickly and it can be a wait for them to get back in stock, if they ever are!
Color Scheme
An easy way to come up with your color palette is to consider the colors in your area rug, window treatments, or throw pillows. If all of these are a solid color, consider adding a statement piece of artwork to the room. A color scheme can be pulled from there.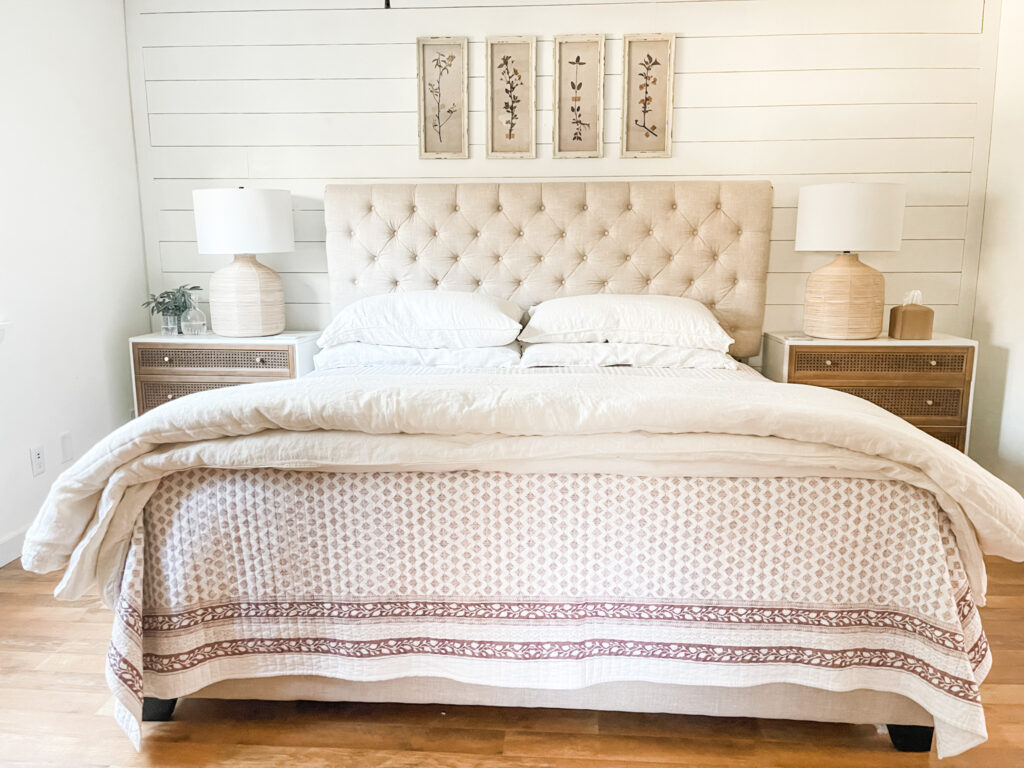 For a luxury feeling room, use three colors at most. That is, unless you're skilled at mixing colors. If you want classic, timeless home decor, two main colors and an accent color, is a great place to start. For a luxury feeling room, use three colors at most.
That is, unless you're skilled at mixing colors. If you want classic, timeless home decor, two main colors and an accent color, is a great place to start.
Colors can go a long way in making you feel like you've achieved a luxury master bedroom. Luxury interior design always has a color plan.
A note on bedroom area rugs. Don't go too small. Keep in in mind that a good bit of the rug will be going under your bed.
It should extend out on either side of the bed, as well as at the foot of the bed. Be sure to buy a rug that is large enough for your space.
Bedside Table
For me, storage feels luxurious. If you have an older home like I do, you'll probably agree that extra storage is a luxury!
For that reason I like my night stands or bedside tables to have drawers. If there is room in your bedroom, I encourage you to choose a small chest of drawers.
The ones that I just added to our bedroom have three drawers. That means six extra drawers in our small bedroom!
Of course I want the chests to add style and a luxury look as well. Since I have a neutral color scheme in my bedroom (so far), I've been choosing new pieces with a lot of texture.
These cane chests of drawers were at a good price point for my budget. I've wanted some cane pieces in my home. However, it was usually stores such as Serena & Lily that I was finding these at.
Don't get me wrong, I love Serena & Lily quality. Ever since we bought our Restoration Hardware sofas, I really realized the difference in higher end furniture!
I'll be watching their sales very closely believe me.
However, recently I've been seeing some really cute cane pieces in a lower price range. Now they probably aren't going to be heirlooms. But they look great and seem to be made well for my current use. I just love the style and the drawer storage space. It's a win for me!
Small Touches
At luxury hotels they anticipate every need that the guest may have and provide for that. Why not do the same in your home for a 5-star hotel feel bedroom?
A water carafe on the bedside table, tissues, fresh flowers or a beautiful houseplant, a diffuser or humidifier, and a cushy robe and slippers.
Think about what will make you or your spouse feel pampered in the room. Do you have a sitting area where a small coffee station could be set up? Reading glasses, your favorite magazine, and a couple of chocolates? A cozy scented candle or essential oil?
All of the small touches add to the ambience of the room. Think about being a guest in your own bedroom. What would delight you to find?
Final Thoughts
Anyone can achieve the style and feel of a luxury hotel in their own bedroom at home.
I hope that this post has given you some great ideas and even a plan for your luxury bedroom makeover. Use your creativity for a space that's unique to you and your home. You won't regret it!
Shop this Post