The Truth About Slipcovered Sofas + Care Tips
What is a sofa slipcover?
Just to make sure we're thinking about the same thing, I wanted to go over what a sofa slipcover or a slipcovered sofa is!
For a very long time, when someone mentioned a slipcover for a sofa, what came to mind was an ill- fitting, sloppy, stretchy piece of fabric (with elastic edges) to hide an old, ugly sofa!
Everything changed when furniture manufacturers began producing brand new sofas with fitted slipcovers, in a range of beautiful fabrics. They really caught on, especially in the Farmhouse or Cottage styles.
Furniture shoppers discovered that they could have the light or even white sofa of their dreams, because it was completely washable.
These fitted sofa slipcovers have separate cushion covers. Zippers make it easy to wash only that cushion cover, if something is spilled.
Gone are the days of a sloppy fit, and only a stretchy polyester fabric to choose from.
However, when I began my search for a slipcovered sofa, over ten years ago, they were very expensive. I wanted a fitted, slipcovered sofa. However, I did not have thousands of dollars in my budget to make the purchase!
Affordable Slipcovered Sofa
However, like most of my Interior Design ideas, I thought, "if there's a will there's a way!"
Back in 2010 when I was faced with this design challenge, I had a little blog called Cottage Glamour. I have always loved styling, so as simplistic as it was, I documented some of my home projects here.
Back then I was also homeschooling our three children, and only working part time. That meant my new furniture budget was a big fat goose egg!
So I had to get creative to come up with some funds. I had been painting furniture for a couple of years already, so I flipped some pieces and also had a garage sale. I made close to a thousand dollars. Woo hoo!
I looked for a couple of months and couldn't find a used, or new slipcovered sofa in my price range.
Cash in hand I was able to purchase a used, slipcovered sofa sectional off of Craigslist for eight hundred dollars! The only problem was, the slipcover was blue denim.
It looked really good in the house I bought it from. I thought I could live with it, and eventually pull it apart to use as a pattern to make a cream colored one. That was some ambitious thinking, but I was determined!
The slipcovered sofa sectional was originally from JCPenney. As expected, the brand new price was close to three thousand dollars!
As time went by, I just couldn't live with it and decided to bleach the slipcover white. It worked! You can read all about it here.
I brought that post over to my new blog and I still get questions and comments about bleaching a slipcover to white!
Different Fabrics, Different Styles
My eight hundred dollar, slipcovered sofa served us well for several years. However, the cushions broke down and the fabric began to tear in various places. It was more "worn in" than it appeared when I first bought it!
It was a cotton cover, and it was very soft. However, since the cushions needed work, it tended to get frumpy and wrinkly pretty quickly after washing.
Then along came IKEA. If you're not familiar with IKEA, they're a furniture and home goods company based out of Sweden.
Their stores are part showroom, and part warehouse that you pick your furniture from, then check out.
Most of their sofa frames, and furniture is flat packed, and you have to put it together at home. I've put A LOT of IKEA furniture together. But that's for another post!
IKEA Ektorp Slipcovered Sofa
IKEA introduced the Ektorp series. They really hit on the current demand! They offered Slipcovered sofas, sofa sectionals, chairs, and matching ottomans at a better price point than, for example Pottery Barn.
At that time, the sectional was $999. with a white denim slipcover. About a third of the Pottery Barn price! There are differences in these brands of course. But I'll also save that for a different post.
We had the slipcovered sofa sectional in white denim for several years. I also picked up the beige slipcover, and a chenille one, that was very inexpensive on clearance.
To read more about my review of the Ektorp sofa, go right here!
We actually really loved the slipcovered sofa so much, that we ended up buying the chairs for our bedroom.
Now if you've been hanging around me for awhile, you might know that it wasn't the end of my Slipcovered sofa journey!
After a few years, my style began to change a bit. I really wanted the square arm, Pottery Barn slipcovered sofa. But again, I just couldn't justify the thousands of dollars, (even though it's a great sofa, from what I've seen others say)!
IKEA Kivik Slipcovered Sofa Sectional
I had noticed the Kivik sectional the last time we had visited IKEA. Our closest IKEA is three and a half hours away, so we only go a few times a year.
I decided to sell my Ektorp sofa sectional on Marketplace.
We bought the Kivik sofa sectional the next time we went to IKEA (which I made sure was pretty quickly, ha!).
The Kivik is also slipcovered. However, it doesn't have a skirt, and looks much more contemporary.
We chose the beige slipcover, which has some linen in the fabric. The blend of fabric seems to give it such nice qualities. It washes beautifully! But more about that below.
To read my full review of the Kivik slipcovered sofa sectional, check out my post here and video here.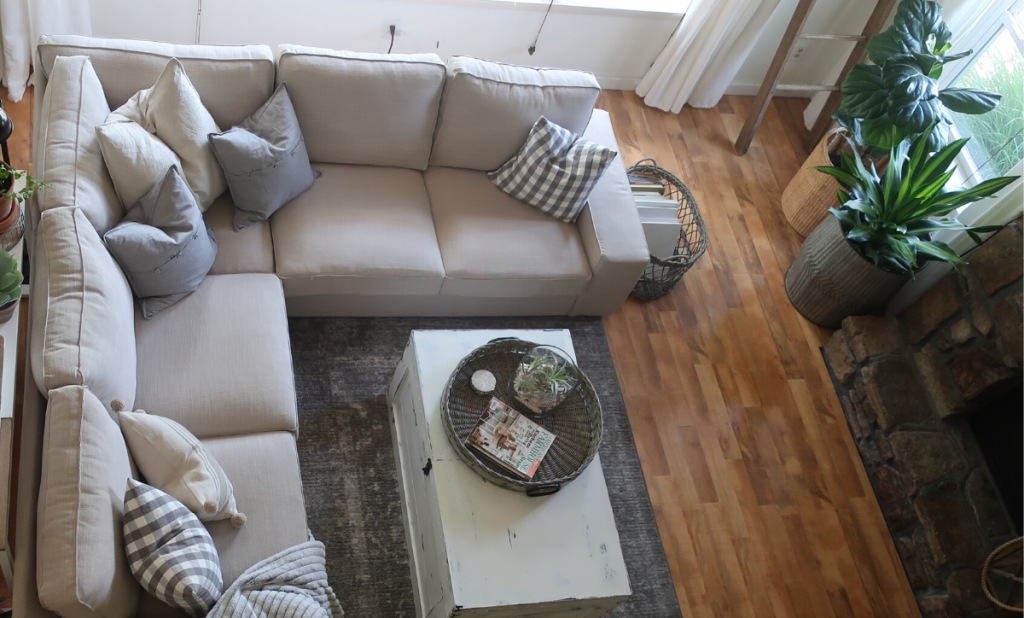 Ok, next up, don't think I'm crazy! But less than a year after purchasing the Kivik sofa, we moved our television to the opposite wall from our fireplace.
Our house was built in 1980 and the living room layout is very challenging. We really don't have a secondary room to put the tv in. So to solve this problem, I put it on the only wall available. The good part is that you don't see the tv as soon as you walk in the front door.
The bad news is, that I arranged and rearranged the sectional, and couldn't get it to work!
To see the layout of our living room, you can check out my home tour on my YouTube channel.
So the Ikea Kivik sectional went up to our loft that we enclosed into a family room type space. Check out the before and after here.
That left us with an empty living room.
Because of the affordability, and past positive experience with our previous slipcovered IKEA sofas, it was back to IKEA we went!
IKEA Farlov Slipcovered Sofa
This time around, I was thinking that I wanted to try something different. I still definitely wanted a slipcovered sofa.
Even my husband Rob is sold on slipcovers. We both love it that we can wash them up to get rid of all of the grubbies!
Another thing that I love about slipcovers. The choices in fabrics, colors, and even styles means that you can change it up without replacing the entire sofa!
I had been looking around online at different slipcovered sofas, to get an idea of what I might like. Many home decor bloggers had purchased the Farlov sofa or sectional. It was beautiful and the feedback seemed great.
I had actually sat on it a couple of times in the showroom, but wanted to check it out again.
The bottom line is, that after much agonizing over which furniture pieces to buy, we ended up with the sofa and two chairs.
However, I chose the dark grey velvet slipcovers and plan on grabbing the cream color in the future.
Friends, these Farlov pieces are gorgeous, deep seating. They're very comfortable and the style is comparable to much more expensive sofas I've seen!
I'll be doing a review on the Farlov sofa soon. Let me know in the comments if that would be helpful to you!
Restoration Hardware Track Arm Sofa
You might be thinking right about now, "I thought you said the Pottery Barn sofas were out of your budget? Now you're telling me that you bought Restoration Hardware slipcovered sofas?!"
Yes! I bought a Restoration Hardware Belgian Track Arm Slipcovered Bench Seat Sofa. Phew. That's a mouthful!
I actually bought two of them!
However, I didn't buy them retail. I actually wasn't quite sure what brand they were until I got them home and found some tags.
All I knew is that they had square arms, what looked like a heavy linen slipcover, and a single bench cushion. The covers were just a little bit dirty. But I could tell these were expensive sofas!
If you want the whole story, and to hear the shockingly low price I paid, check out this video!
I have to say that in the comfort and quality, we can definitely tell the difference from the less expensive sofas. They're the perfect cream color, not stark white.
Don't get me wrong because I absolutely love a bright white sofa. I just find them more challenging to maintain. Especially in such a busy location as our living room!
Pottery Barn Sofa
In the meantime, while doing all of the sofa shuffling in the living room, we picked up a Pottery Barn slipcovered sofa at the thrift store!
We put this one in our bedroom. I was planning on buying a brand new slipcover for it. However, we passed it on to someone else after we decided to go with chairs instead.
It was actually so comfortable. You can see a bedroom tour here. My updated bedroom tour is here.
How to Wash Slipcovers
If you've read along from the top, you'll know by now that I've had many different types of slipcovered sofas!
I have washed every slipcover I own. When I thought about it, almost every chair, and all three sofas in our house are slipcovered! We just love to be able to wash them.
I'm going to share my experience here of washing and how I dry them. ALWAYS check the manufacturers label. Please don't take my advice over theirs!
I'm going to break it down by fabric content to make it easy.
COTTON: My IKEA Ektorp sofa sectional and chairs were 100% cotton (the white denim ones were). I always washed these on gentle/cold, and hung them up to dry.
I've read other bloggers say that they would add bleach. I never used bleach, so I can't really share my experience in this. I did use powdered Oxyclean, so that they would stay bright.
To be honest, the slipcovers were so pretty, but a bit of a pain to maintain. They had to be ironed after they were dry (unless you like the really crumpled look)! Even washing on cold, they shrank some and were difficult to put back on.
IKEA has replaced the Ektorp with the Uppland series and changed up the slipcovers. Hopefully these issues have improved.
BLENDS: My IKEA Kivik, Farlov, and Pottery Barn are all fabric blends. I washed the Kivik on gentle/cold, and would tumble dry on low. I never had a problem with them shrinking. They went back on beautifully and looked like new! No ironing needed.
The Farlov velvet covers I wash on gentle/cold. I tumble dry on extra low until they are still quite damp and then put them back on to finish drying.
They look beautiful. The edges of the skirt could use a bit of steaming, but I usually don't do it!
NEVER iron velvet unless you want the "burned out" velvet look of shirts from the 90s!
We all love the feel of the velvet, especially in the winter. It's super cozy.
The Pottery Barn slipcover was washed on gentle/cold and tumbled dry on extra low. I put this one back on damp so that I could shape it, and so it wouldn't shrink.
LINEN: Here is the truth about slipcovers, and Linen slipcovers in particular!
If you like a tailored sofa, that always looks crisp, don't get a slipcover with a lot of linen in the fabric content.
Have you ever worn a pair of Linen pants in the summer? How do they look after several hours?
Yeah, same thing with slipcovers. Linen stretches, it wrinkles, it's natural looking, and wonderful in my book!
The Restoration Hardware slipcovers are the thickest Belgian Linen you can imagine. However, after a while, the sofas look "comfortable". They actually are very comfortable. But when the covers start looking a little to slouchy, I know it's time to wash them.
That's the other great thing about Linen. It can be washed and it will come right back into shape! I love a relaxed, casual style at our house, so these are literally my dream couches!
I wash them on warm/gentle and I dry them on extra low. I put them back on when they're still a little damp. I shape the pleats on the corners and call it done. They could also be steamed, but honestly I don't bother!
Disclaimer: The Restoration Hardware website has an extensive care guide online for their all of their slipcovers. They recommend dry cleaning, and spot cleaning only.
I went ahead and washed everything since I had paid such a low price, I really didn't have much to lose! Besides, I've been washing supposed "dry clean only" fabrics for years.
But hey, it's your call on that!
Bottom Line
So what is the verdict after living with slipcovered sofas (and chairs) for over ten years?
Honestly, other than a Leather Chesterfield, you couldn't talk my husband or me into buying any other kind of sofa.
If you don't mind occassionally washing and drying the slipcovers, you will probably love them too.
Every slipcovered sofa we've had, at every price point, has worked out great for our household. We have pets, grandkids, and messy grown ups (myself included)! Being able to throw the covers in the wash to come out like new, is almost magical for me! Ha
Ok, before I start writing a love song to slipcovered sofas, I'm going to end here!
Let me know in the comments if you have any questions or want to share about the slipcovered sofas in your life!