Black and White Bedroom Refresh
Black and White Bedroom
Black and white decor has been my favorite since I was a little girl. I periodically try to add in some color. It just doesn't last very long!
Black and white can also be a little boring unless you add in some texture.
Some choose to add in an accent color in small doses, with great effect. I especially love green or pink thrown into the mix!
Bedroom at Christmas
This is how I styled my bedroom for Christmas. I included red and green for a cozy feel.
But as soon as the new year arrived, I was over it.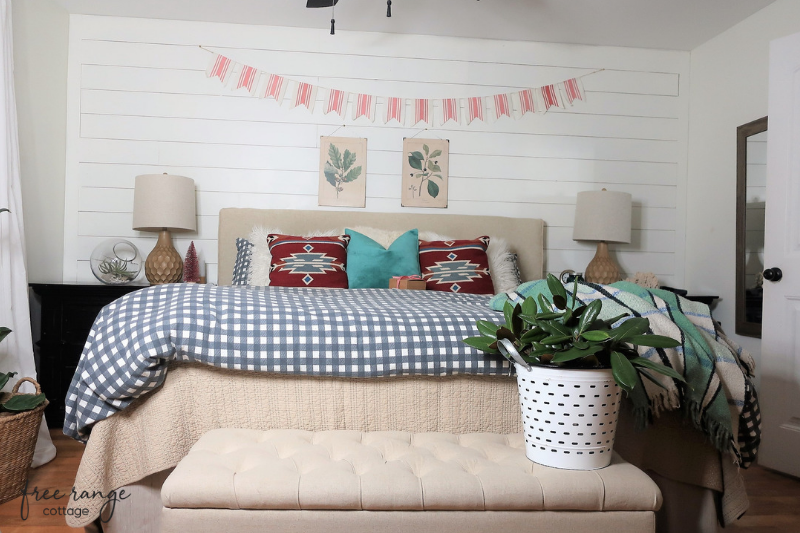 The buffalo check duvet cover got put away, as well as the red and green pillows. See ya next Christmas.
Out came the snowy white duvet cover, down comforter, and white textured bedspread.
I've owned this bedspread and shams for over 20 years, so I guess you could call them vintage. They're a cotton matelasse' and have held up through many, many washings (with bleach). Matelasse' is a form of weaving that gives a pattern to the bedspread.
I created some repurposed artwork over the bed. Having never been a huge fan of abstract art, I've been interested in it lately.
I feel like it's a little small for this space but I'll live with it until I find something else. I don't like to cover up too much of my beloved shiplap anyway!
The pillows and striped blanket were collected from various places. Hobby Lobby, Ikea, and thrift!
Our nightstands were purchased second hand off of Craigslist a couple of years ago. They aren't my "dream" style. But the drawers are so useful, since we don't get a lot of storage in this vintage house.
The barn wood box, made by Rob, holds the remote control to the tv.
Our headboard is a sand colored linen. It used to have an arch on the top. We cut it off to expose more of the shiplap. I'll either change it out or slipcover it in the near future. Add it to the project list!
The hanging rack by the bed is really handy for  jewelry and bag storage, as well as picture display.
On the other side of the bedroom is a sitting area. I showed you my thrifted dresser in this post.
I'll show it to you again here.
This area is in transition right now, so no glamour shots available!
Currently my desk lives here. But it will be moving upstairs when our loft space is completed. "Before and after" coming soon.
There you have it. My simple, black and white bedroom. It feels uncluttered and relaxing to me. Just what I want my bedroom to be.
How about you? Do you decorate with black and white, or is color more your vibe?