Before & After: German Schmear Fireplace Makeover
What a difference a schmear makes! I've been wanting to try this German schmear technique for a couple of years and I finally went for it.
It's definitely a dramatic difference in my living room.
Plus I want to share my "new" thrifted dining room chandelier! It's wood beaded and wonderful!
How To Do a German Schmear
I looked around at different techniques online. Some of them used more of a wash technique with paint or mortar. As a matter of fact, it can also be called a mortar wash. But I like to say schmear, so that's what I call it!
The technique I eventually decided on seemed the most simple to me.
Since I like simple, or lazy DIY, whichever you want to call it, this is what I went with.
The tutorial I found was from Up to Date Interiors.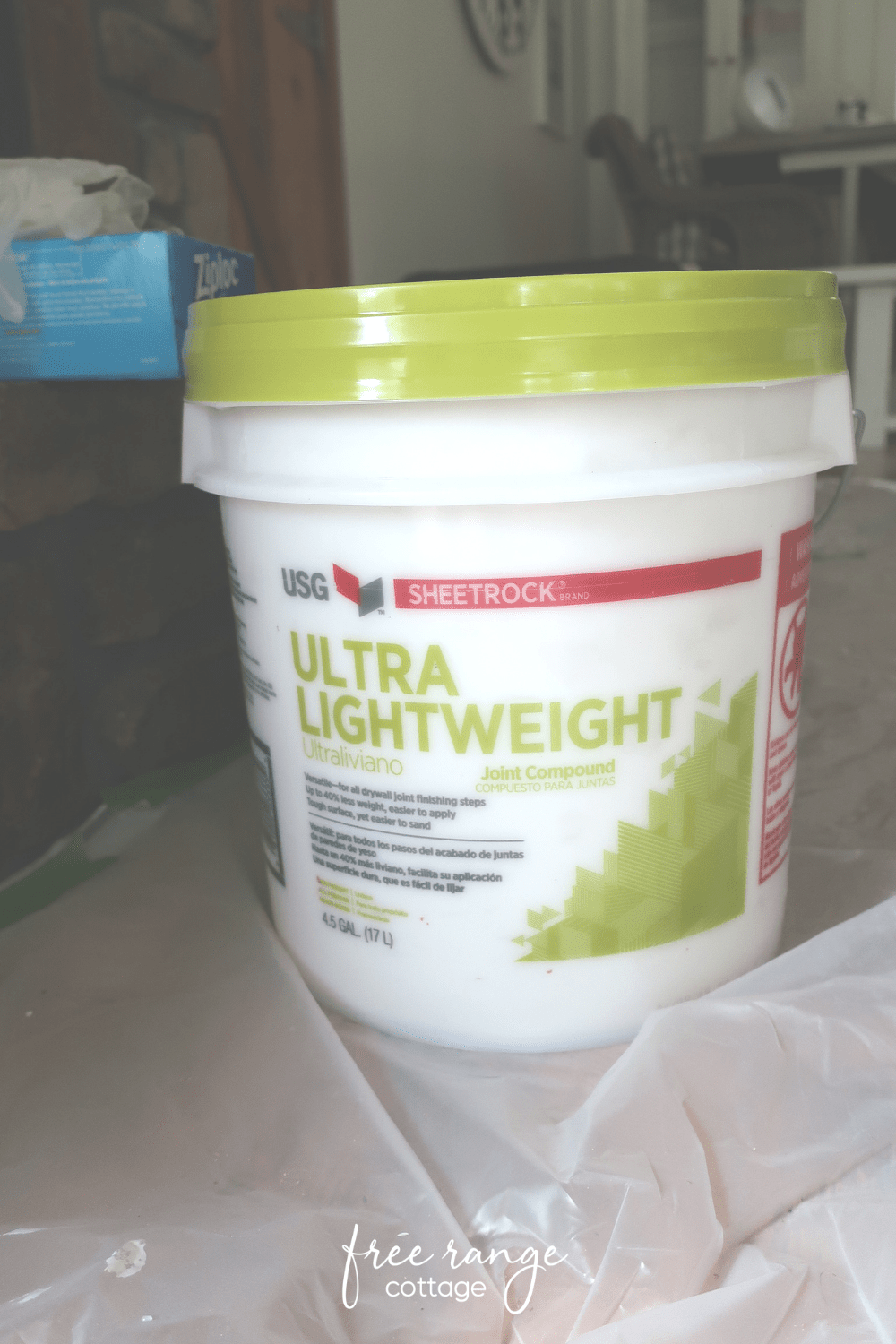 Rob grabbed a bucket of drywall joint compound for me on the way home from work. I gathered up some disposable gloves, half gallon ziplock bags, large putty knife, plastic for the floor, and painters tape.
I taped off the floor around the fireplace. I was concerned that it was going to end up being a serious mess! But thankfully, it wasn't too bad and the clean up was quick.
I filled the plastic bag with joint compound and snipped the end. I tried to squeeze it in the grout lines like the directions stated. Nope. It wasn't working very well. It was too thick to come out and didn't stick very well when it did!
I resorted to grabbing it off of the putty knife and smearing it in the mortar, or maybe schmearing it?
Anyway, I have a lot of fireplace stone to cover, so it took me a couple of days and quite a few hours to get it done.
I used the putty knife to smooth it over the stones one by one. Rob had to get up to the very top. Even on a really tall ladder I couldn't reach!
The End Result
I love the lighter, brighter feel in the living room.
This 1980 living room has been very difficult for me to decorate and feel comfortable with. Almost sixteen years later I'm still working on it!
If you want to see more of the living room layout, check out my IKEA Kivik sectional review.
 I have to admit that I'm not sure if it's ultimately what I wanted. I began to wipe some of it down with a little water so that more of the stone shows through. Rob and I both like that better. So I can see more work on this fireplace in the near future.
Don't get me wrong. I do like it. But as you may know, that's the way it goes with DIY.
Sometimes you have to keep tweaking it until you get the result you're looking for.
But I wanted to go ahead and get the pictures of this project out to you. I know there are many of you that would never cover stone, or paint wood either. I like to experiment and try new things. To each his own I guess!
I also painted the small door next to the fireplace with chalk style paint. It's hard to see in the photo, but it had a lot of red in it. I love how it looks now.
Behind this door is a box that opens into the garage for firewood storage, in case you're wondering!
I also painted my huge clock with a medium gray. This clock has so many layers of paint on it!
This is the third time I've painted it in the last six months.
However, I really like the modern look of it against the German schmear of the stone.
$15. World Market Thrifted Chandelier
Now I can't wait for you to see my new chandelier. I bought it off of Marketplace. But it is actually brand new from World Market (still had the tag on it).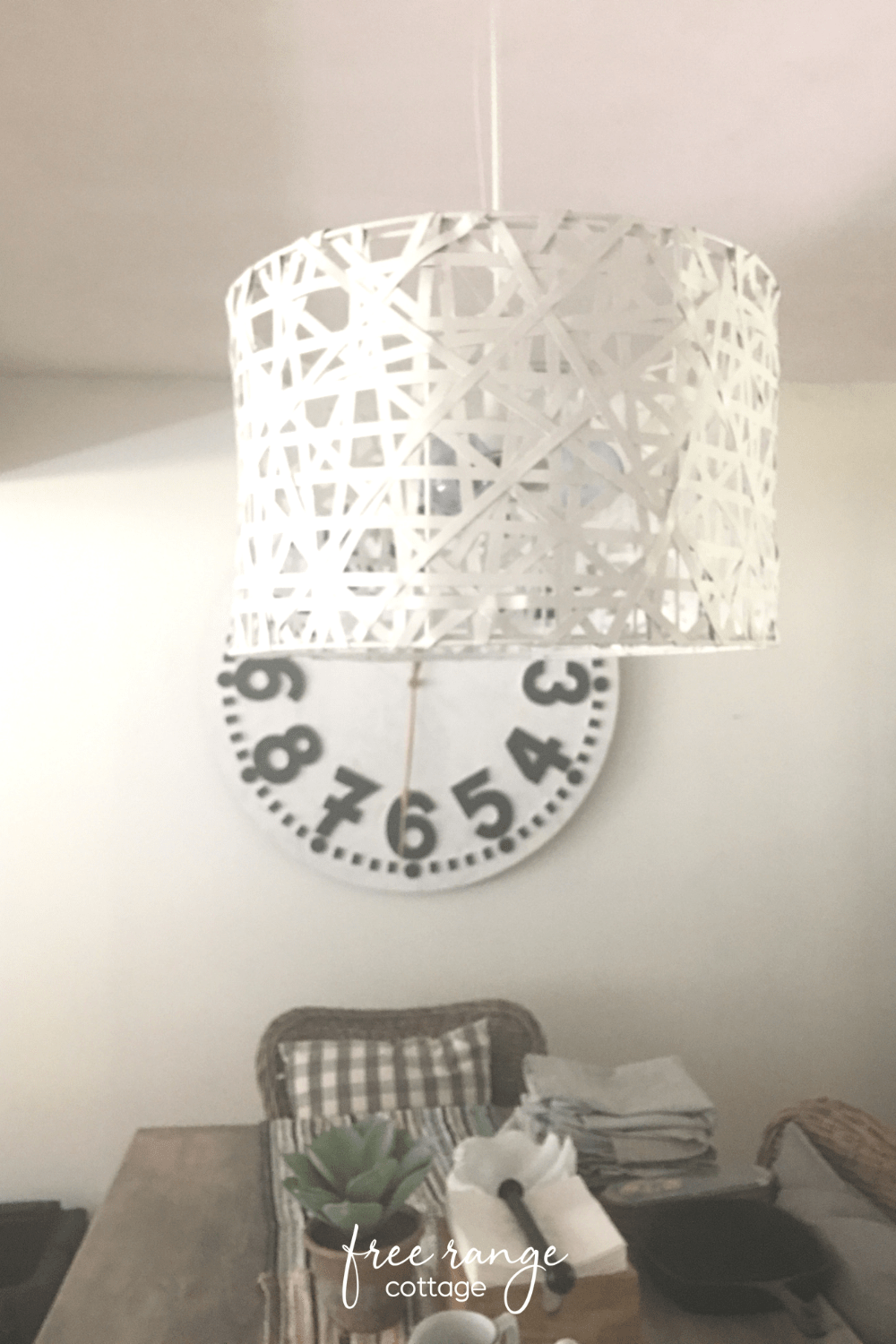 But first, I'll tell you a quick story about the large pendant light that I had hanging for at least the last five years. My daughter- in- law and I were driving by a really nice furniture store and I spotted two guys throwing things in the dumpster!
Of course I did a quick U- turn and asked what they were throwing away and can I have it? Ha!
It was two of these light fixtures and a couple of small tables. They weren't fit for retail because of not having the fabric liner on them.
We each took one and I've kept it for years. About six months ago I (inevitably) painted it from the oil rubbed bronze to white. THEN I spotted the World Market chandelier.
I paid $75. for the $200. value chandelier off of Facebook Marketplace.
Then I sold my dumpster pendant light for $50.
Soooo, I only paid $15. out of pocket for this gorgeous, beaded beauty! I love the black candelabras. I'm really wanting more touches of black into the mix of my decor. I have a new dining room rug coming tomorrow that should work very well with this chandelier.

Conclusion
The German Schmear was an easy technique to brighten up my dated stone fireplace. It's definitely worth doing if you're considering a change and want to do it on a budget!
Let me know what you think of the before and after.
Also, I need your opinion.
Should we add a mantel? We had one before and it didn't really fit the vibe of the room. It just felt like a place for clutter.
But I'm thinking that a touch of rustic wood against this new white finish would be very pretty. Thoughts?
Thanks so much for visiting. Come back soon to see the latest.
Blessings to you and yours!