7 Sectionals That Perfectly Complement Your Cottage Home
Cottage homes have a charming and cozy atmosphere. A cottage style home is a popular choice if you appreciate a warm, welcoming, and timeless aesthetic.
When it comes to furnishing your cottage, choosing the right sectional can significantly impact the overall look and feel of your space.
Let's explore seven sectionals that work seamlessly with a cottage home. I've included the easy care and casual look of a slipcovered sectional. Also included is the classic style of a Chesterfield, which will add instant cottage charm!
I've got you covered with a range of options to suit your taste.
The Appeal of Cottage Style
Before delving into our sectional recommendations, let's take a moment to appreciate the allure of a cottage home.
Cottage homes often feature elements like exposed beams, cozy fireplaces, and natural materials that evoke a sense of nostalgia and comfort.
Cottages often include quirky spaces as well, such as low ceilings and awkward layouts for modern living. (ask me how I know!)
When choosing a sectional for your cottage, it's essential to select pieces that harmonize with these rustic and homey elements. Often a sectional can take a challenging living space and turn it into one that flows, and works for your lifestyle.
Most of the featured sofas have many fabric choices to choose from, as well as different configurations to fit your space.
Slipcovered Sectionals
If you've never owned a slipcovered sectional, I wrote a post all about my experiences with them and how to care for them. Click the image to read the post.
Some of the links provided may be affiliate links. I earn a small commission if you shop through my links, with no additional charge to you. It's a win win! Thank you for being supportive of my small business.
Cottage Style Sectionals
Pottery Barn Pearce Roll Arm Slipcovered Sectional
The Pottery Barn Pearce Roll Arm Slipcovered Sectional is a fantastic choice for cottage-style living rooms. The slipcover design allows for easy cleaning, making it practical for families.
The roll arm style adds a touch of traditional to the casual cottage setting. Keep in mind that it doesn't have a skirt, giving it a more modern cottage profile.
IKEA Uppland Sectional
IKEA's Uppland Sectional is an affordable and versatile option. The Uppland sofa replaced the very popular Ektorp. We used to own the Ektorp sectional. You can find my review of it right here.
The removable slipcovers are available in various colors, allowing you to refresh your cottage's look whenever you like. Its classic design is a great fit for a relaxed cottage atmosphere.
Shop for your sectional!

Crate & Barrel Willow Modern Slipcovered Sectional
The Crate & Barrel Willow Modern Slipcovered Sectional offers a more contemporary take on cottage style. Its clean lines and tailored slipcover create a sophisticated yet cozy look that complements cottage interiors beautifully.
Wayfair Rosalie Chesterfield 145″ Reversible Sofa
For those who appreciate a touch of elegance in their cottage, the Rosalie Chesterfield Sectional from Wayfair is a superb choice. Its deep tufting, rolled arms, and reversible chaise add a refined touch to your cottage living space.
Arhaus Lansbury Chesterfield Sectional
The Arhaus Lansbury Chesterfield Sectional exudes luxury and comfort. Its high-quality craftsmanship and classic Chesterfield design make it an excellent centerpiece for a cottage living room where you want to make a statement.
West Elm Marin Skirted Slipcover Sectional
West Elm specializes in creating custom furniture for cottage-style homes. Their English Arm Slipcovered Sectional offers a tailored and comfortable seating option that can be customized in various fabrics to suit your cottage's color palette.
Birch Lane Heritage Jameson Symmetrical Sectional with Reversible Cushions
The Birch Lane Heritage Jameson Symmetrical Sectional stands out with its reversible cushions, allowing for easy maintenance and longevity. The rolled arms and overall design align well with cottage aesthetics.
Pottery Barn Chesterfield Leather Sectional
If you're looking to introduce a touch of rustic luxury to your cottage, the Pottery Barn Chesterfield Leather Sectional is a fantastic choice. Crafted from top-grain leather, this sectional combines the timeless charm of the chesterfield style with the durability and richness of leather.
Mixing Styles in Cottage Decor
While we've presented slipcovered and chesterfield sectionals separately, it's important to note that cottage decor often thrives on mixing styles.
Don't be afraid to blend the two by incorporating slipcovered sofas with chesterfield armchairs or vice versa. This eclectic approach can create a unique and inviting atmosphere in your cottage home.
Choosing the Right Fabric
Whether you opt for a slipcovered or chesterfield sectional, selecting the right fabric is crucial. In a cottage setting, consider natural and textured fabrics like linen, cotton, or even a cozy wool blend.
A lot of companies offer performance fabrics. These are a great option if you have children or pets!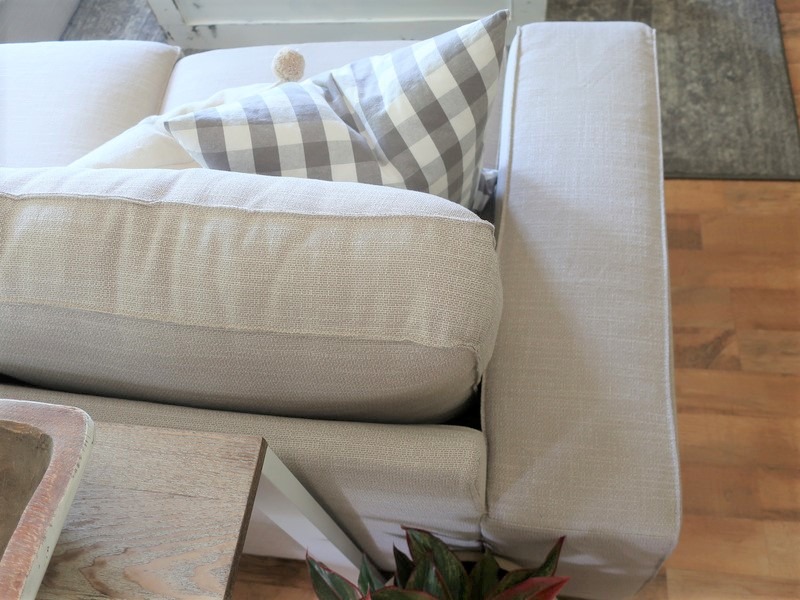 These materials not only enhance the overall look but also contribute to the comfortable and inviting feel of your space.
Accessorizing Your Sectional
Once you've chosen the perfect sectional, it's time to accessorize. Cottage decor often incorporates elements like floral prints, soft throw blankets, and vintage-inspired accent pieces.
Decide whether you want a more modern cottage room, a dark and rich color scheme, or even a bohemian feel to your space.
When considering how to accessorize, always keep in mind how your family will use the space.
Add decorative throw pillows that are sink down cozy, if your sectional will be used for naps and movie night. Additionally, soft throws and lamps with dimmers can enhance the cottage ambiance.
At our cottage home, a little bit of vintage is always a good idea. You can follow along on my thrifting adventures on my YouTube channel for inspiration!
Conclusion
Choosing a sectional for your cottage home can create a warm, inviting, and stylish living space. Whether you prefer the casual elegance of a slipcovered sectional or the timeless sophistication of a chesterfield, there are options available to suit your taste and budget.
Thanks so much for stopping by. Now it's your turn! I would love to hear from you in the comments!
Tanya