Why homemade hand sanitizer?
For many years, our family has actively been reducing the chemicals that we use. Both our cleaning products, and our self care items, can be loaded with substances that we want to avoid such as synthetic fragrances, and parabens.
Commercially prepared hand sanitizers may also contain Triclosan which the FDA says may lead to hormone disruption, and negatively affect immune function!
I don't know about you, but balancing my hormones and improving my immune system are major health goals, that I work on regularly.
I certainly don't want to be applying a product that undermines my efforts!
The good news is that you don't have to use the chemical juice, or simply go without!
Store bought hand sanitizer is easily replaced with far cleaner homemade versions.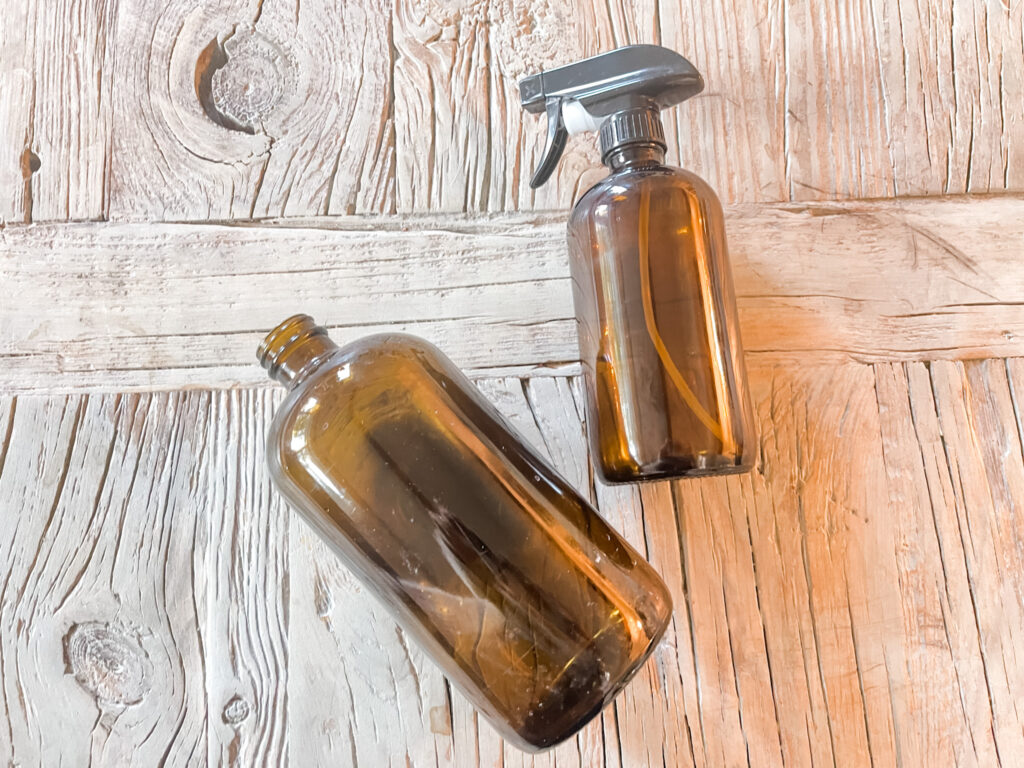 Note: Some links included may be affiliate links. I will earn a small amount with no additional cost to you. Thank you for helping to support my small business!
Types of Hand Sanitizers
When it comes to hand sanitizers, there are several types to choose from.
There are gels that are usually in a squirt or pump bottle. Personally I'm not a fan of the goopy feeling. But to each his own!
Hand sanitizer wipes come in handy to keep in the car. You can wipe off some sticky hands and sanitize at the same time.
Then of course, there is hand sanitizer spray. The spray is my favorite for a couple of reasons.
There is no goopy residue after applying. Just a nice clean feeling.
I also carry the spray in my purse. I might use it on a light switch, or public bathroom faucet that looks a little "iffy"!
How to Make Hand Sanitizer Spray
Friends, this is almost too easy! Once you get the method down, you can create your own favorite scents too.
I love it that I get some aromatherapy every time I sanitize. Doesn't hurt to have a little mood boost in the process, does it?
Essential Oils
A quick word about essential oils. Buy the best you can.
I used whatever essential oils I happened to buy, for years. I had mainly purchased some at a craft fair, and the health food store.
I could never quite get the intense smell of the higher end (expensive) products that I would sample at various stores. After trying lots of recipes, I couldn't figure out what I was doing wrong.
Finally, I began to research essential oils and discovered that most of them have chemical and artificial additives.
When I learned that I could buy essential oils that only had the oil from the specific plant in it, I was shocked.
Wait, what? They're not supposed to have other strange ingredients? You mean Lemon oil is only supposed to have oil, cold pressed from a Lemon?
It didn't take me long to throw out the fake oils and purchase all kinds of gorgeous, real essential oils!
Frankincense: Great for skincare. Mix a few drops in with your favorite lotion.
Lemon: So fresh. I use it in my cleaning product recipes as well as add a couple of drops to our pitcher of Iced Tea.
Geranium: The smell of Summer. Added to a diffuser at night, I feel like I'm sleeping in a flower garden.
Rosemary: Great for headaches as well as cleaning products. Be sure to add to a carrier oil such as Jojoba or Hemp because this is considered a "hot" oil.

Get 10% off your first order or 15% off $100 or more purchase with my code COTTAGE10
The difference is like night and day. With just a few drops I can get intense fragrance with all of the aromatherapy benefits (and there are so many).
We even began to take some of them as supplements. I mix my own fragrances as well. But those are for another post.
So the bottom line is, buy the best you can. If you can only buy one bottle of the real essential oils versus five of the fakes, buy the one bottle!
You can slowly add to your collection and you'll be glad you did it in the long run.
Alcohol
Most of us have a bottle of rubbing alcohol in our medicine cabinet. This is a great option for your homemade hand sanitizer.
Another option would be alcohol that is at least 60 percent alcohol/120 proof, in order to be anti-microbial.
Witch Hazel is a plant based product. I love it and keep it for facial toner and other skincare. However, it isn't recommended for homemade hand sanitizer.
Hand Sanitizer Spray Recipe
1 cup 60% alcohol
8 to 10 drops essential oil
Mix together and pour into a glass spray bottle. A funnel is helpful!
To make a gel, simply add 1/2 cup Aloe Vera gel.
Conclusion
Homemade hand sanitizer spray is so easy to make. With just a couple of ingredients that you probably already have, you're ready to go.
Purchase glass spray bottles for best results. But you can also use spray bottles that you are reusing from other products. Make sure to wash them thoroughly.
I hope you make some DIY homemade hand sanitizer. Anything to help keep you and your family healthy is a win, right?
Blessings to you!
Tanya from Free Range Cottage