Farmhouse Christmas House Tour
Christmas House Tour!
Do you love getting a glimpse into other people's homes to see their creativity and decorating style?
Isn't it fun to get ideas or just sigh over all of the design eye candy? I've really been enjoying blog hopping to all of the amazing, Christmasy cottages out there!
Simple, Woodland Theme
Welcome to my Farmhouse Christmas House Tour! I'm so glad you're here. Our house was built in 1980 and we moved into it in 2004.
We've been remodeling pretty much since then! It has some good features, mostly having to do with the large, wooded lot we're on.
It also has some "challenging" spaces. The 7 foot high kitchen ceiling is my constant frustration. I mean, was the house built in 1980 or 1880? I'm sure that couldn't have even been to code back then! But I'm getting way off track.
This year I've been working on simplifying in so many ways. Christmas decor is no exception.
The thought of lugging out boxes and boxes of ornaments and baubles was just a bit overwhelming.
So fresh greens, a few favorite ornaments, and some seasonal, decorative pillows and throws are what I focused on.
Let's begin at the front door.
I hung a couple of stockings on the coat rack that my husband Rob made out of vintage hooks found at a Flea Market.
We have a stone fireplace but have taken the old mantel down and haven't replaced it yet. It's on the project list!
I have a confession. Every year Rob wants red in the house for Christmas and I'm not a red fan.
When I found these ticking stripe pillows at HomeGoods, I knew I could make it work. They pair well with the grey I already have in the room.
It feels more updated and not so heavy. I think I've found my happy compromise.
The galvanized cake stands are from World Market as well as the buffet.
The lantern is from Hobby Lobby.
I purchased the farmhouse style table and bench off of Craigslist for great deal. I sanded and re-stained the top and added a coat of paint on the legs and bench.
The large mirror was a $20. garage sale find that I sanded the paint off of.
The light fixture (reflected in the mirror) was free. I was driving by a furniture store and saw them throwing it in the dumpster. I didn't actually dive in after it, I asked if I could have it! It was a bronze color for years and I recently painted it white.
I look for wrapping paper and ribbon all year long at Flea Markets, thrift stores, and of course regular stores. I like to buy patterns and colors that will work for any occasion.
I was happy to also find these vintage berries at an Estate sale recently. They coordinate perfectly with my colors this year.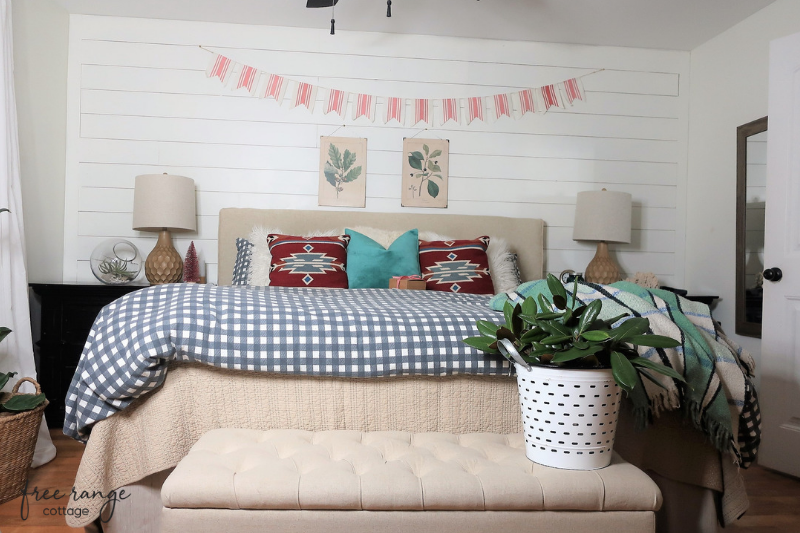 Again, I found some red that I can live with. I found these Kilim wool pillows at World Market last year.
I like to use them in the winter and they're nice for awhile in the summer too. But then I start to get itchy about the red and put them away!
But that's the fun of it. It's like I get new pillows every time I pull them out again.
Thank you again for touring my Farmhouse Christmas home! I hope you enjoyed it and I especially hope that you and yours have a blessed and very merry Christmas.
I welcome your comments and hope you visit again very soon.
Want to keep in touch? Subscribe and we'll hang out!