IKEA Kivik Sectional Review and Farmhouse Decor
Have you wondered if a more modern sofa can fit in with farmhouse decor? The IKEA Kivik sectional has square arms and a streamlined slipcover. This made me question if it would look out of place in my farmhouse, cottage style home.
The IKEA Kivik Sectional
The last couple of times we visited IKEA, I had noticed the Kivik. Sure, it was modern. But, oh my gosh, it was comfortable. I don't mind a mix of modern with farmhouse or cottage style. I think it keeps it from going too sweet and even "cluttery" feeling. It's a perfect blend for boho style, which I'm also favoring these days.
However, this is a large piece of furniture. I just wasn't sure if it would be more modern than I would like!
I tried searching for pictures in different styles of rooms. Honestly, I couldn't find anyone that had pictures of it styled the way I would want to. Maybe I just didn't look hard enough?
Anyway, we went ahead and sold our Ektorp (gasp). See my full review of that sectional here. We had it for over three years and I dearly loved it. But I was ready for a change and wanted a more generously sized sectional.
We Bought the Kivik Sectional
The Kivik was easy to put together. The slipcover that we chose was Hillared beige. I really thought I wanted the light grey Orrsta. Unfortunately, after seeing it on a sofa in the showroom, I was disappointed. The fabric wasn't as thick as the Hillared and it didn't have the same finish around the edge binding. The Hillared has some linen in the fabric blend. I think it really gives a high end look.
The Hillared slipcover also comes in dark grey, which was too dark for our living room. The dark blue was very pretty. But again, not an option for what I had in mind.
We actually purchased a second slipcover, that will be going back. It is the Borred. They call it a gray-green and it would be great in a man cave (which is probably why my husband insisted we get it). But in my living room it just looked like swamp mud.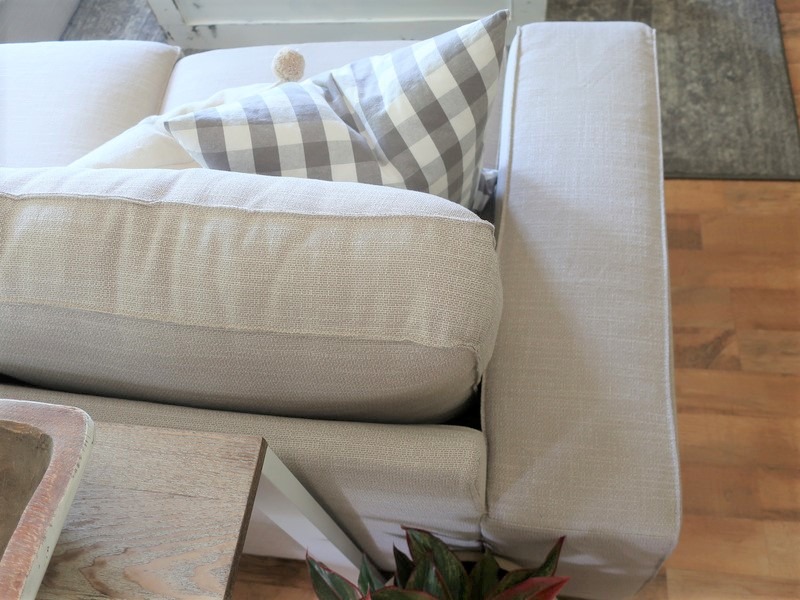 Ignore the rug that is too small. I'm still rug shopping and wanted to see how the grey worked in here. Let me know what you think!
Do We Like It?
This sectional is so comfortable! There is memory foam in the cushions and they keep their shape well. I don't find myself having to fluff them as much as the Ektorp.
The lower arms are something to get used to. But they work really well with the "C" tables that I bought when I had my other sofa. Overall we love the comfort and size. It seems very durable so far.
But does it fit in with farmhouse style decor? I'll let you be the judge of that. But if you want my opinion then I say yes, yes, yes.
I honestly don't know why I'm not seeing a lot more of these sectionals on decor blogs. Comfort Works has rated it the #1 sofa from IKEA for 2019!
On the con side, I would definitely like to have more slipcover options. A white or cream one with a tailored skirt?
I daydream about making a bleached, drop-cloth cover in the future. But for now, I'm happy with the neutral color and the simple shape. I can style it a number of different ways and it looks fantastic.
Oh, and for those of you that are throw pillow addicts like me, you can fit a shopping cart full of them on this baby! They don't all end up on the ground when everyones sits down. The depth of the couch allows for people and throw pillows at the same time! The throw pillow situation didn't really work as well with the Ektorp.
We've only had the sofa for a short time. But I promise to keep you updated about how it's holding up and different ways that I'm styling it as the seasons go by.
Thanks for reading. Be sure to subscribe so you don't miss a post.
I would love for you to share my blog with a friend. I'm trying to get the word out.  You can have a home that you love, and do it on a budget!
Be sure and pin for later.