We've lived in our home for over nineteen years. That has added up to A LOT of DIY projects.
However, many of the home renovations that we've done over the years have been maintenance issues. Old house means new roof, windows, HVAC and on it goes.
I'm excited to say that we're currently working hard at improving the aesthetics and function of our home. That's the fun part for me!
I'm sharing some rooms in our home and sources of where I found products for the renovations and decor. I'll keep updating as rooms get completed. Will we ever be finished?
You'll have to follow along to find out…wink.
This post may contain affiliate links. Read our disclosure…
Entryway
Our entryway just got a much needed makeover. To me, it's been an eyesore the entire time we've lived here! A small entryway can be challenging.
Now I smile every time I walk in the door. See the full post and before and after pictures right here.
Living Room
Our living room has gone through a lot of transformations. It's a small cottage style space with lots of openings and windows.
I did a German Smear (schmear) on our fireplace stone. You can see the before and after right here. It really brightened up the space and I have never regretted it!
We love our slipcovered sofas. If you're considering them I'll send you to my post The Truth About Slipcovered Sofas. We've had various brands and I give my honest opinions on the pros and cons of owning slipcovered couches, as well as some care tips.
Dining Room
Our dining room is another small space. That's why I call our house a cottage!
We added shiplap to the dining and living room. Still have a couple of walls to go.
Do you need a tutorial for (seriously) cheap and easy Shiplap? Got that for ya!
I found the cabinets on Facebook Marketplace and did a makeover on them. See the before and after here.
That little door on the left leads to a firewood box in our garage. It's very convenient next to our fireplace.
Kitchen
Our kitchen has low ceilings (around 7 feet high)! It had yellow linoleum and an ancient stove when we moved in.
We built a new kitchen island with loads of much needed storage. It's one of our most popular posts. You can't beat an easy to build kitchen island with great storage!
We changed the flooring to tile many years ago. Now I'm ready for a change. I'll keep you updated right here!
We also painted the cabinets and added new hardware, removed some of the upper cabinets, installed Subway tile, Butcher block countertops, and a new sink.
To add in extra storage we installed a couple of open shelves with light sconces around the room. Older houses have the worst lighting.
We also changed out the fluorescent lighting to recessed ceiling lights and shiplapped the ceiling.
We had an over the stove microwave for several years. But with the low ceilings it was just too much of a focal point.
Rob built this beautiful wood vent hood to take it's place. He made a how-to video if you want to do it yourself!
I bought this vintage Pie Safe off of Facebook Marketplace to hold dishes and a few pantry items. We have three cooks that live here, so the more storage the better!
Primary Bedroom
Our bedroom has had it's share of makeovers as well.
Bohemian Farmhouse Bedroom Makeover
We added an accent wall of shiplap. The eighties era folding door to the bathroom was replaced with a DIY sliding barn door.
We used salvaged wood and created a herringbone pattern. It's rustic and I never seem to get tired of it.
I've been adding in more luxury feeling furniture and decor. Even though it's on a budget, I've been taking my time. To see more of the finished bedroom look right here.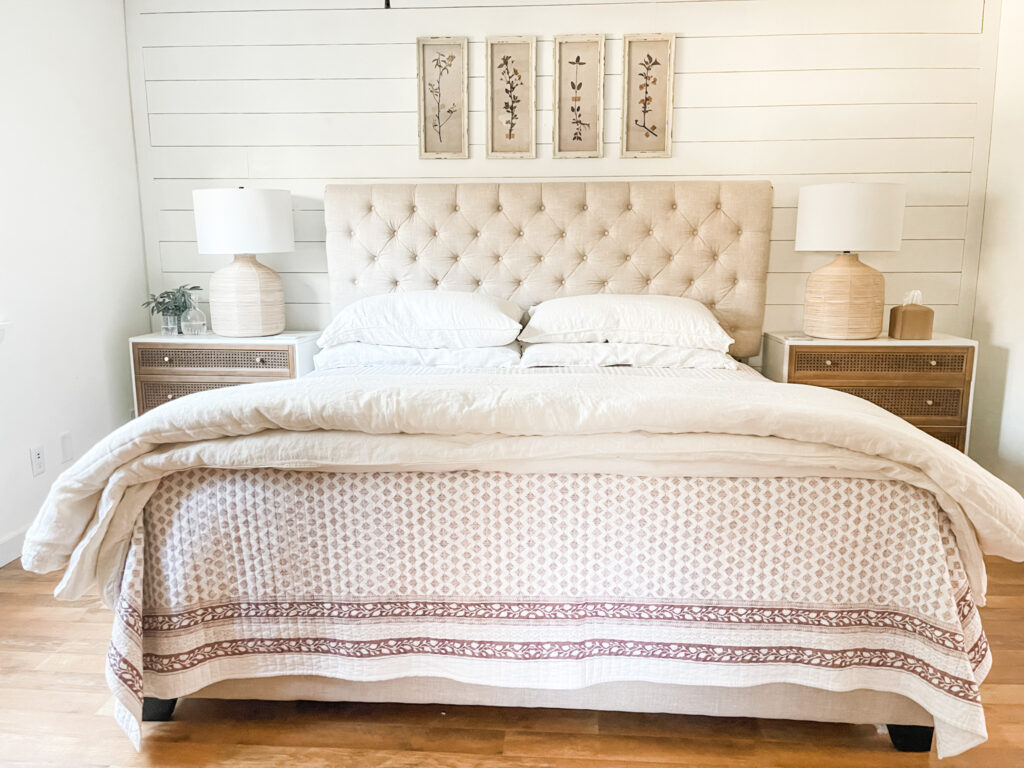 Primary Bathroom
This DIY project is currently in progress. I can't wait to share it with you and show you all of the DIY projects we did in here. Stay tuned because it's a BIG change from the old, dated bathroom.
This is just a sneak peak!